Cley Bird Club members take part in many local and national surveys organised by the BTO and other bodies. The Club also organises local surveys for its own records and also for other researchers.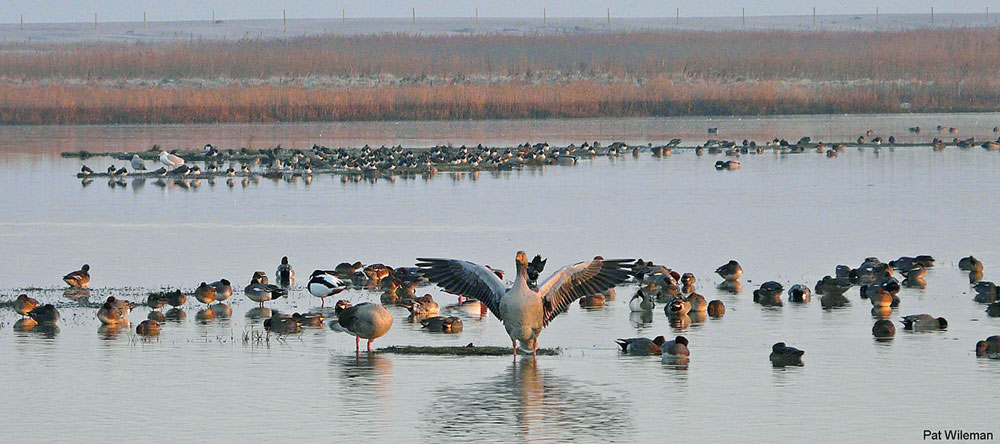 If you would like to help with any of these please contact the organisers below:
Wetland Bird Survey (WeBS Counts)
These are part of a formal National coordinated survey. The counts are made along the coastal area by the local wardens and a team of volunteers. They are done on a pre-allocated day each month to tie in with other sites along the N Norfolk Coast, they are usually (but not always) early on a Monday or Friday morning to tie in with the high tide. If you would like more information on these in the Cley Square please contact David Wileman. More information on WeBS can be found on the BTO website.
Breeding Surveys
Cley Marshes
Each year a few of our members survey the breeding birds on NWT Cley Marshes. This is not a formal scientific survey but birds are watched for signs of breeding and the numbers of pairs are ascertained for each species. Progress of nests and chicks is then followed. It culminates in an annual report which is sent to the NWT and other conservation bodies and an article in the November CBC Newsletter.
Previous year's reports can be found on the Reports page
In 2014 Cley Bird Club took on doing more formal surveys for NWT of birds on the newly purchased land between East Bank and Iron Road. This was to enable them to monitor the effects of development and conservation work on the land over the next few years.
At present neither of these surveys cover Salthouse east of Iron Road. We would love to cover this area but do not currently have the resources.
If you feel that you could help, please do contact Pat Wileman. We would love to hear from you and always need more people. You don't need to be an expert, we aren't, you just have to be able to recognise the species you are monitoring. We have learnt a lot as we've gone along and you could too, but beware, watching chicks on a regular basis can become addictive!
Single Species Surveys
Information on the following species is currently collected for researchers at national institutes and universities:
Dark-bellied Brents – number of young in flocks and brood sizes
-winter dusk roost counts
Pink-footed Geese – winter dawn roost counts
Little Egrets -winter dusk roost count
Ringed Plovers -breeding information along Square coast
Black-tailed Godwits – age and moult data
For more information please contact David Wileman
Observations of Ringed, Colour-ringed, Collared and Tagged Birds
Details of ringed, colour-ringed and tagged birds seen in the Cley Square have been kept since 2002. Lists and histories of the birds seen can be found in the Ringing section under the Reports tab.
If you see a ringed bird PLEASE DO REPORT IT.
It is usually best if the finders of ringed birds send in the observations themselves to the ringing scheme coordinator in case there are questions as to whether the rings have been read correctly or the coordinator is keen to get further information.
To get help on reporting a ringed bird yourself click  Reporting ringed + tagged birds   for more information.
We would very much like to receive copies of the details that you receive from the ringers for any birds seen in the Square in order to keep our records as comprehensive as possible so please send these to David Wileman.
If you do not wish to send in records to the ringers yourself  then we are happy to do this for you for any birds seen in the Cley Square. Please send details to David Wileman.